'Jockin-sir', as Mumbai's slum dwellers call him, is an inspirational figure helping India's dispossessed stand up for their rights, find new homes, and plot a way out of urban poverty.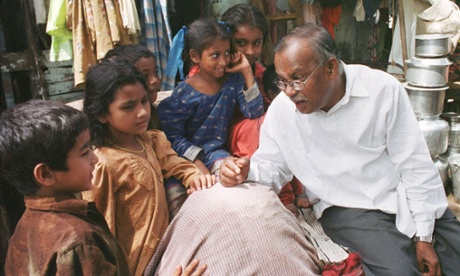 Parveen Shaikh was born in a pavement dwelling of sacks and plastic sheets in Sewri, on the eastern edge of Mumbai. She married another pavement dweller from across the road. "Born on east side footpath, married on west side," she jokes. When her first son was a little over a month old, the city's bulldozers came to raze her home. The road was to be widened."I was taking down the bamboo supports when Jockin-sir's people came with a stay order," she says.
"Jockin-sir" is what thousands of former and present slum and pavement dwellers in Mumbai call Jockin Arputham, the founder of the National Slum Dwellers Federation (NSDF) and president of Shack/Slum Dwellers International (SDI). In Mumbai and across the world, Arputham has long been an inspirational figure within an alliance of organisations helping slum and shack residents to stand up for their rights, find new homes, and plot a way out of urban poverty.
A woman named Kanta from the alliance – which also comprises Mahila Milan (Women Together in Hindi) and SPARC (Society for the Promotion of Area Resource Centres) – came to meet Parveen and her neighbours soon after the demolition was deferred. She wanted the women to participate in a savings scheme by contributing small amounts daily. Kanta was chased away with abuse, but she persisted in coming back and convinced the women to meet Arputham. They softened after meeting him a few times: "We wouldn't bathe for days together, we'd smell, our hair would be wild. No one would come near us, but Jockin-sir would sit with us and eat."
Previously the women, who mostly worked at construction sites or as household help, hadn't been able to save because opening a bank account required proof of address and a guarantor. Squirrelling money away didn't work, Parveen says, because many of the men around were alcoholics who'd "beat it out of us". With the alliance's savings scheme, the women were able to accumulate amounts that would help their families transition into replacement housing, with its bills and maintenance costs.
Six years ago, Parveen and her family moved into a room measuring 225 square feet with a toilet and a bathroom, obtained at no cost through the alliance. Now she works for the organisation, like Kanta, reaching out to women living in slums and on pavements. Her two sons are in middle school; the older wants to be an IAS (Indian Administrative Service) officer, the younger an automobile engineer, and they wish they had a larger house with rooms of their own. "I remind them every day that we came here from the footpath," Parveen says.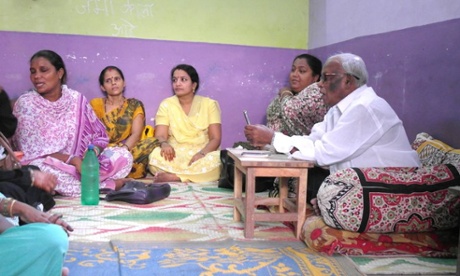 Normally garrulous, she quietens as we walk down a street in Byculla, south Mumbai. The street is dense with pedestrians, scooters, cars and push-carts. The pavements are occupied by people selling clothes under once-colourful parasols. They used to have people living on them, but this stretch has now been cleared and its inhabitants resettled.
Further on, the pavements are packed with shacks built with plywood or sometimes bricks, divided into warrens by pieces of cloth and flimsy partitions. Their fronts are dominated by drums and buckets used to store water and clothes hanging on lines. Some shacks are double-storied, with a ladder leading upwards. On the corner where road meets pavement is a shared open drain with grey sludge, likely the source of the odour in the air. Parveen says it reminds her of how she used to live.
Why do people migrate to cities to live like this? Parveen – whose parents came from a village in rural Bihar before she was born – says if the government provided people with means of sustenance in their villages, they would happily live there. But they're forced to move to cities where there is work, if not housing. Around 65 million Indians live in slums. And in Mumbai, India's most populous city, around 60% of its 12 million people live in slums – defined by the Census of India as being "unfit for human habitation" for a multitude of reasons.
"I am a proud slum-dweller," says Jockin Arputham, 67, sitting in his office on the ground floor of an eight-storey building in a redeveloped portion of the Dharavi slum. He has lived in slums for most of his adult life, working, first in Mumbai and then across the world, to organise slum residents and improve the quality of their lives. His work has won him the Magsaysay award in 2000 and, earlier this year, a nomination for the Nobel Peace Prize, put forward by the Swedish minister for public administration and housing, Stefan Attefall, and supported by ministers from Norway and South Africa.
"There is a war between the urban rich and the urban poor," Arputham says. "And I'm trying to make peace between them." According to him, the upper classes think of slum residents as lazy, criminal elements out to swindle the resources of the city. "It's the opposite," he says. "We are not impinging on resources. We don't take much water, electricity, public transport. We are the human resource of the city."
Only a couple of decades ago, slum and pavement dwellers could be evicted summarily because they were seen as encroachers. Now, owing in large part to his efforts, policy recognises slum residents as valid inhabitants of the city, entitled to compensation and alternative housing.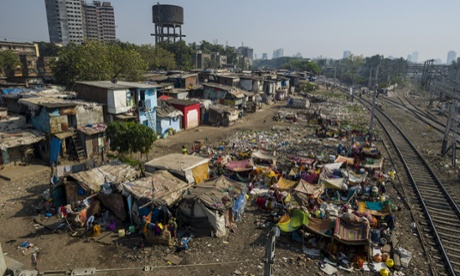 Arputham was born in Kolar Gold Fields, near Bangalore, in the south of India. He moved to Mumbai when he was 18 to work as a carpenter. Having no place to live in, he began sleeping outside people's houses in Janata Colony, a slum of around 70,000 people in Mankhurd. There was daily wage work to be had at the nearby Bhabha Atomic Research Centre (BARC), where a new reactor was being constructed.
For two days, he worked as a sweeper, offering himself to contractors. Then, seeing that the contractors themselves didn't need any credentials, he started a company called Lift and Shift and began hiring labour to clear garbage, clean the grounds and move machines. This made him relatively well off in the slum. He'd buy sweets and snacks for the children of the colony and ask them to sing for him, which turned into regular musical gatherings. At some of the parents' urging, he began to run an informal night school where, since he hadn't finished school himself, he got the older children to teach the younger ones.
The colony had no garbage collection, which led to a mosquito menace. The municipality had chosen to ignore the settlement, and Arputham took this on. He announced a picnic for which 3,000 children from the community turned up. Each of them was to bring along a bundle of garbage wrapped in a newspaper sheet. The picnic began early in the morning, and the long procession of children was led to the as-yet-unopened municipality office to dispose of their loads. He laughs and claps his hands at the memory: "In half an hour the whole compound was full of garbage."
SDI was founded in 1995, with Arputham as its head, to link organisations dealing with urban poverty across Asia, Africa, Latin America and the Caribbean. SDI today spans 33 countries where 90% of the world's slum population of 800 million people live. Earlier this year, it won the $1.25m Skoll Award for Social Entrepreneurship. Now, he and SDI have been proposed for the Nobel Peace Prize.
"All these awards I accept on behalf of the slum dwellers who were my university, my teachers," Arputham says. "The money goes to the organisations. If I can give all the poorest of the poor a house, that will be my biggest victory." In recent times, his poor health has slowed him down a little. Still, Parveen says they have to force him to rest: "He never seems to sleep. He just dreams with his eyes open."
FROM: THE GUARDIAN